The "Spaceship" DIY standing desk: A massive, attractive, and affordable standing desk for tall nerds
A standing desk didn't exist with enough height, desk space, and storage capacity to meet my needs, so I designed one using Expedit cabinets from IKEA. "The Spaceship," as my fiance dubbed it, is a massive 72" wide, 31" deep, and 48.5" high. It is the perfect elbow resting height for a lanky 6'2" nerd like myself. The Expedit cabinets provide a sturdy base of support, about 10 cubic feet of storage space, and are available in three colors: white, black-brown, and birch. The parts cost between $250 and $300, depending on configuration, and can be assembled in half a day without special equipment. If you're a large person in need of a lot of standing desk, this may be a great solution for you. It has been copied with success by numerous folks since I originally posted about this two years ago. Be warned, however, that its sheer size makes it quite a presence in any room!
Construction is very straightforward. Assemble two "2×2" Expedit shelving units ($40/each) to form the base of the desk. Two "5×1″ Expedit shelving units ($60/each) will be laid horizontally on top of the 2×2 units to form a table top. You'll want to fully assemble at least one of the "5×1" units for the rear top of the desk.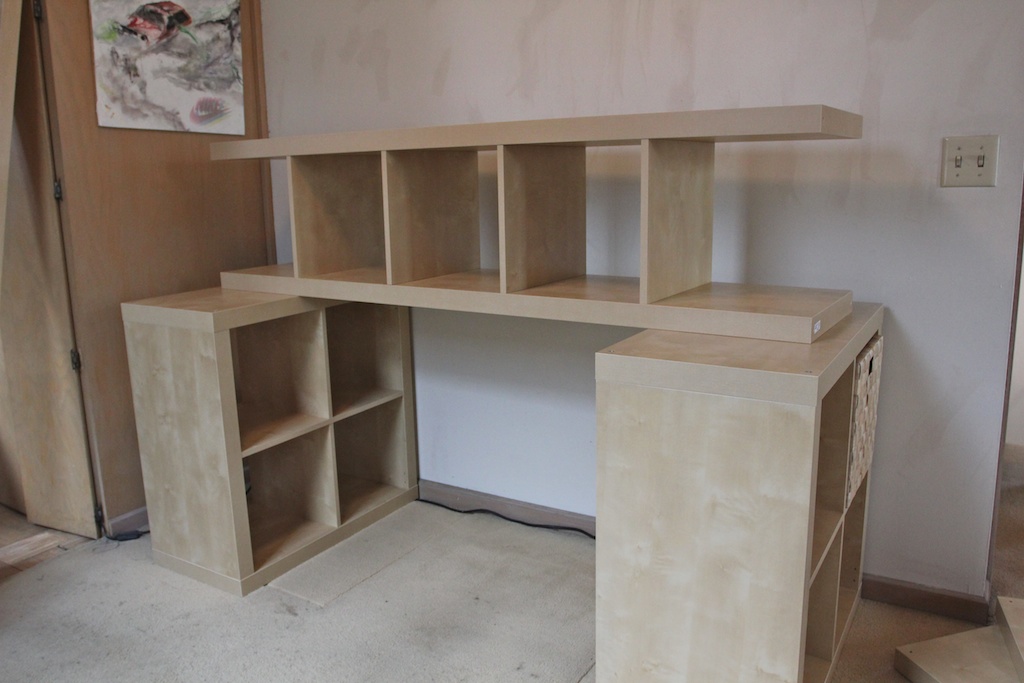 Whether you want to fully assemble the front top unit depends on your priorities. Fully assemble the front top unit to maximize stability and internal storage space. Partially assemble the top unit in a "bench" shape with one long side supported by two short sides for more flexibility. The bench top leaves enough space underneath the desk to fit a high chair like this one I use, which is a nice option to have if you're going to work here all day. You can also use the remaining long side of the "5×1" shelving unit to store equipment you prefer to use at waist height (like the turntables shown below) and temporarily remove the bench top for easy access.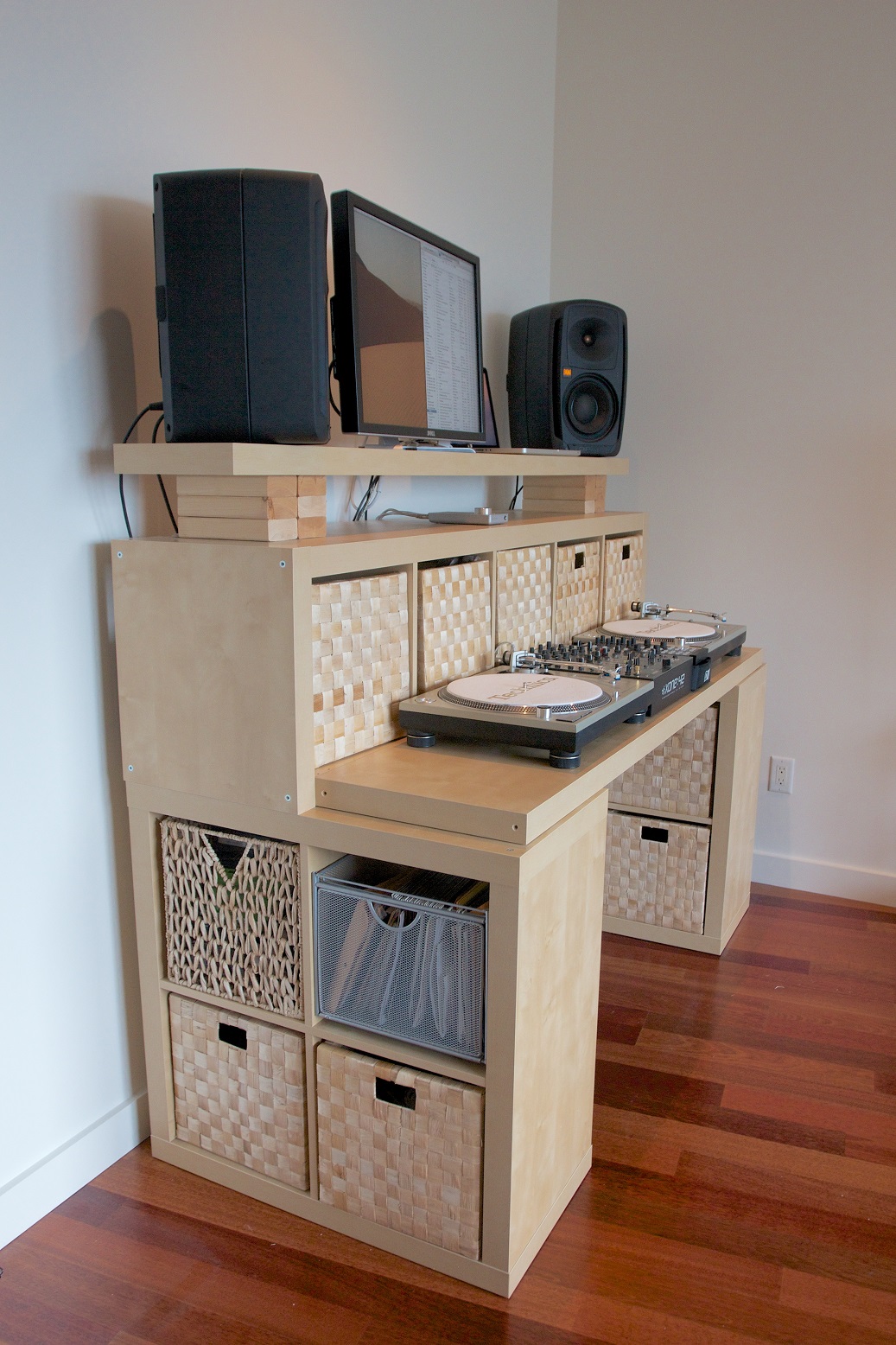 If you're storing enough equipment in the desk, it may be sturdy enough without reinforcement. However, I'd recommend bolting together the shelving units with braces for maximum stability. A couple straight braces on each side and and an angled brace underneath each side have been plenty stable for me over the past couple years.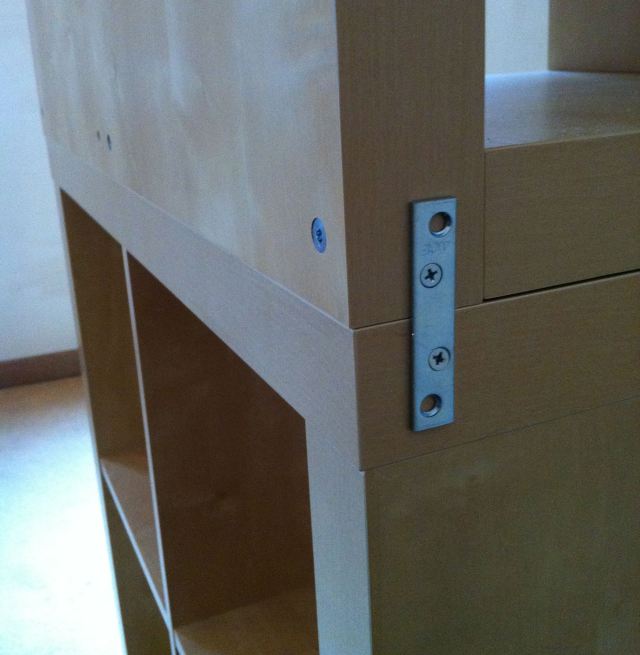 If you're using an external computer monitor or studio monitor speakers, I'd recommend placing them on an additional shelf about 6-9″ above the desk surface. That way you won't crane your neck looking at the monitor and the tweeters on the speakers will be at ear level. I use an IKEA "74 x10" Lack Shelf ($20) supported by some cut up 2×4's. If I wanted to get fancy and more permanent, I would use some capita legs from IKEA for support.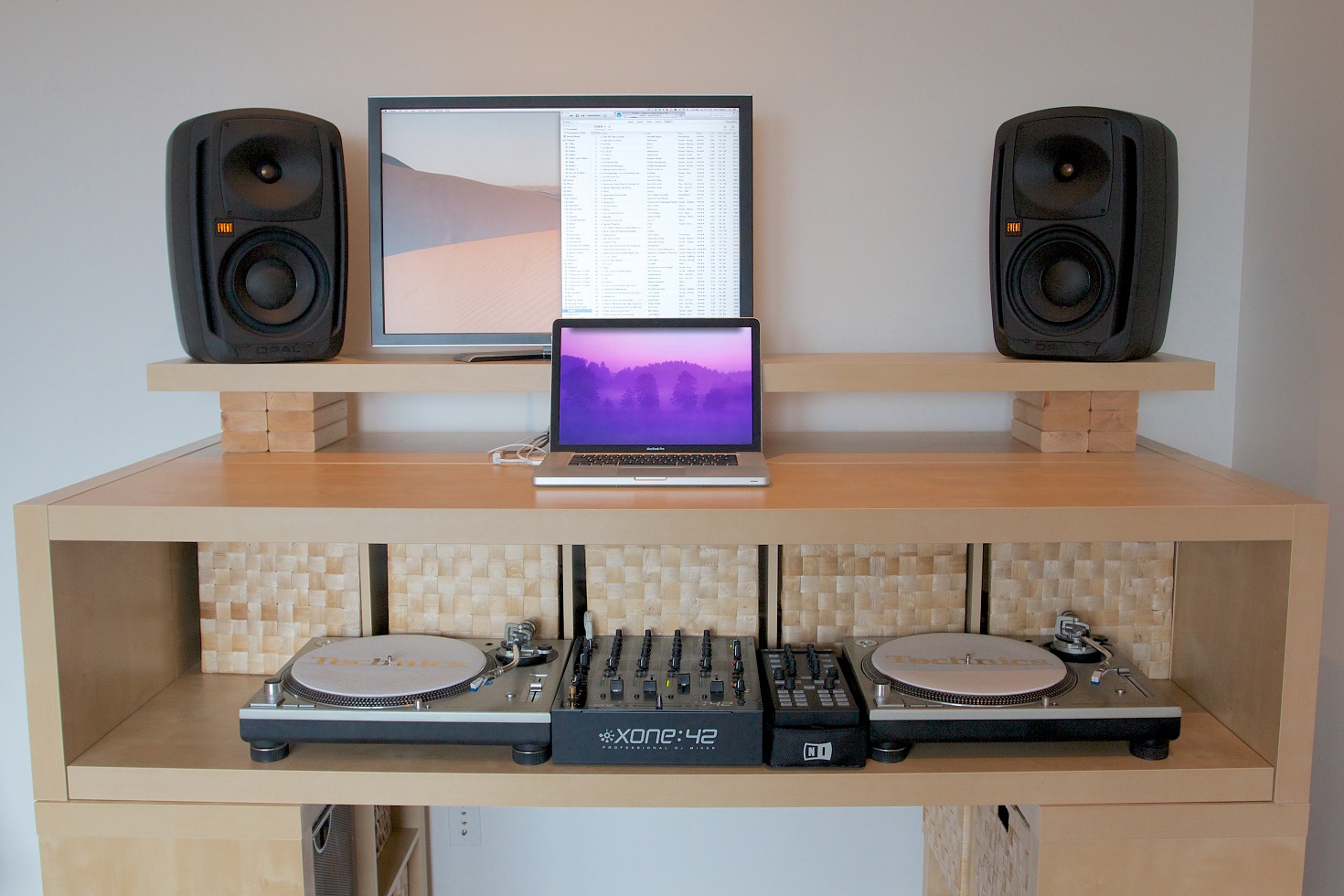 If you love this desk and wish to exercise at the same time, you might want to copy Chad Evans' "Behemoth" modification. His desk uses the black-brown cabinets, has a fully assembled front top cabinet, and a LifeSpan TR1200-DT3 Standing Desk Treadmill ($1,000) underneath. Chad reports that the configuration works great for his 5'11" height.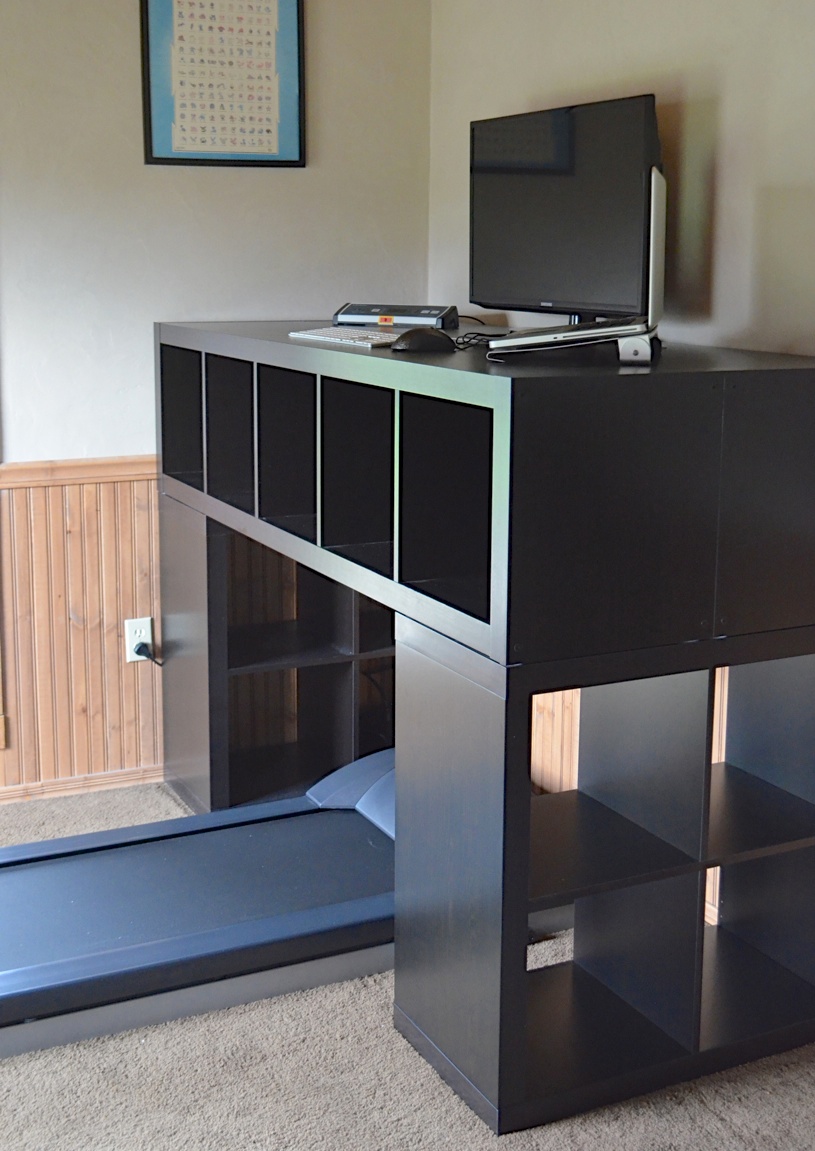 While I consider my version of The Spaceship a continuous work in progress, I have Rocky at the Portland IKEA store to thank for the initial inspiration. I hope more tall nerds out there adapt this in cool new ways! Please let me know if you do or have any questions about the desk.
Peter Marks @petermarks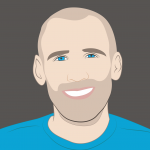 Peter Marks is a programmer and DJ in Portland, OR. When he's not creating iPhone apps, he's usually mixing music for his Occasion Vibration podcast. His standing desk, The Spaceship, accommodates both pursuits.

(Visited 6,439 time, 1 visit today)