Stamina InMotion Elliptical Trainer review: A sturdy, compact trainer for standing or sitting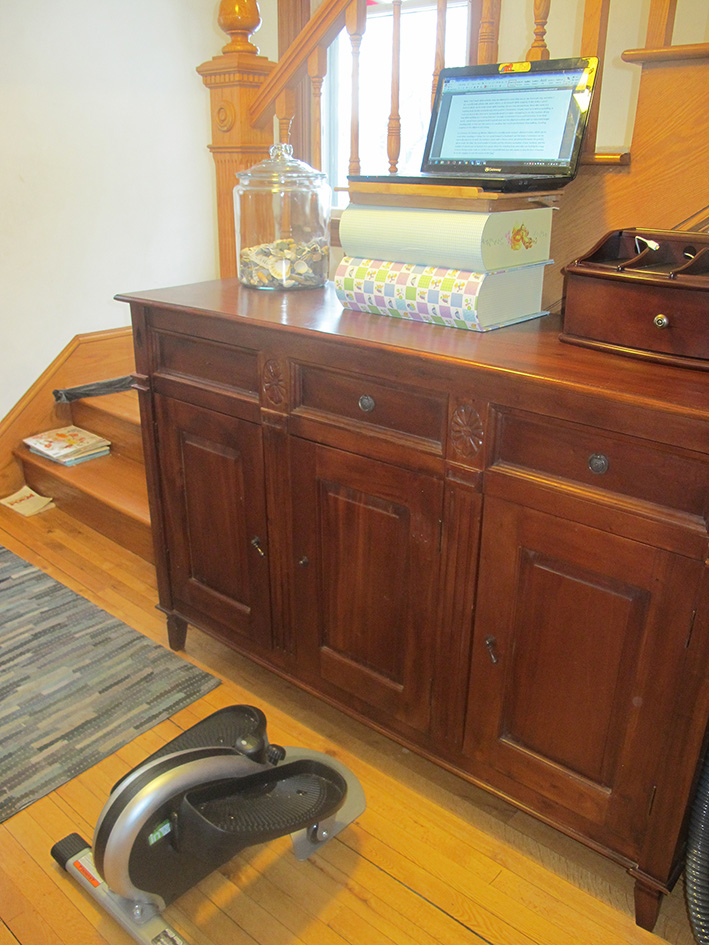 I first set eyes on the Stamina InMotion Elliptical Trainer when I was researching standing desks. One of the sites I visited featured a large photo of a woman standing at her desk, one foot perched on a small contraption—that seemed to consist almost entirely of two large foot pedals—tucked underneath it. I happen to love the motion of a standard elliptical trainer, not to mention the intense full-body cardio workout one provides, but I've only ever used one in a gym, so I was intrigued.
Six months ago, with the help of my father-in-law, I crafted a DIY treadmill desk by attaching a plank to the arms of my high-end treadmill with a couple of screw-on clamps. I would walk very slowly on it (between one and two miles an hour) while working on my laptop. Unfortunately, the DIY nature of the contraption quickly became a problem. It was fine for working at (although I never really got over a slightly seasick sensation when typing) but if either I or my husband wanted to use the treadmill for a faster workout with a longer stride, the shelf got in the way. And it was a real nuisance to get out the screwdriver every time we wanted to remove the shelf. After a few weeks, I took it down permanently.
So I was overjoyed to receive the Stamina InMotion Elliptical Trainer for review, thinking it might be the perfect compromise. At the time I got it in the mail, I was alternating between sitting down to work in my living room and standing at a tall buffet in my front hall, which coincidentally just happens to be the correct height for a standing desk for me (I am 5'5" tall).
Although the Stamina InMotion needed to be put together, assembly was a piece of cake. My husband, who is one of the least mechanically inclined people in the world, did it before I even asked him to. The package arrived; I opened it to check the parts; I took the kids upstairs to put them to bed and returned to find David had already put it together. He was already testing it out, too. Unfortunately, he didn't read the instructions, which state "If you have good balance and are familiar with the elliptical, you may use [the machine] while standing. Always mount and dismount the elliptical from the lowest foot pedal. Stand on the foot pedals with the front of your shoes close to the front edge of the pedal cap. For more stability, place a chair next to [the machine] and place your hand on the chair back while stepping onto the pedals. Move your highest foot forward and follow the natural path of the machine. If necessary, use a wall or a table to help maintain your balance while using [it]."
David just hopped on without using anything as a support, started stepping, and promptly fell off. I, however, placed the machine in front of my buffet, gripped the edge of the counter, stepped up, and started pedalling away. The first thing I noticed is that the stride (the up and down rotation of the foot pedals) is not as high as that of a conventional elliptical machine, the sort you'd use in a gym. This makes your steps feel a bit short and choppy in comparison, at least at first. The second thing I noticed is that it made me a great deal taller, almost a whole foot, which meant I had to perch a couple of boxes on top of the buffet in order to position my laptop at the correct height. This was an easy, if not particularly attractive, fix and in fact, as a replacement, I have my eye on the Executive Stand Steady Stand Up Desk that Casey reviewed last week. Once you are comfortable on the elliptical, you don't need to hold onto anything. This frees your hands to hold the phone, for instance, or to search the web. I find the movement is too dramatic for extended periods of typing but your experience may differ.
Now, I don't work while actively using my elliptical for more than one or two hours per day, and when I do, I usually make phone calls, watch videos, or do research while stepping. It also makes a good footrest which can be easily varied while standing. (As you may already know, those who work at a standing desk should constantly vary their position.) Sometimes I simply stand on it without pedaling, or I rest one foot or the other on it. You can also use the Stamina InMotion while you are sitting at a desk, if there is ample knee room underneath the surface. I can do so at my dining room table and the movement is gentle enough not to impede typing.  I personally would not advise attempting to exercise on this machine all day long while working at a standing desk but I strongly recommend it as a useful accessory. In an ideal world, I would have a purpose-built treadmill desk and this elliptical machine with an adjustable height standing desk, so that over the course of a working day I could vary between slow walking, standing, stepping on the elliptical, and sitting.
In summary, the Stamina InMotion Elliptical is a sturdily-made compact elliptical trainer, which can be used either standing or sitting. You can pedal forward or backward and the level of resistance can be manually adjusted. As well, the machine comes with a fitness meter (positioned between the pedals), which tracks the time, the total number of strides and the distance equivalent of your workout, and the number of calories you've burned. It is a great choice for standing desk users who are looking for a way to move during certain tasks at a desk or for a treadmill desk user who wants to vary the kind of motion he or she engages in over the course of the day.
(Visited 8,693 time, 2 visit today)