UpDesk Reviews: A Roundup
The UpDesk is one of the most popular adjustable height standing desks on the market right now. Are you considering buying one? We've rounded up a number of UpDesk reviews from all over the web and summarized their findings to make your research just a little bit easier!
(If you haven't already settled on UpDesk, you may want to check out some of its competitors, as well. Here are some good options: the manual lift Rebel Desk Rebel Crank-Up 1000 and Ergotron WorkFit-D Sit-Stand Desk, and the motorized Conset 501-27 Height Adjustable Desk, and Workrite Sierra Series Electric Height Adjustable Desk.)
UpDesk currently offers three different models that allow you to spend part of your work day standing and the other part of it sitting: the PowerUp Series III, which comes with an electronic lift system, the CrankUp desk, which comes with a manual lift system, and the new UpWrite desk, which is basically the PowerUp with the addition of a special wet/dry erase marker board top.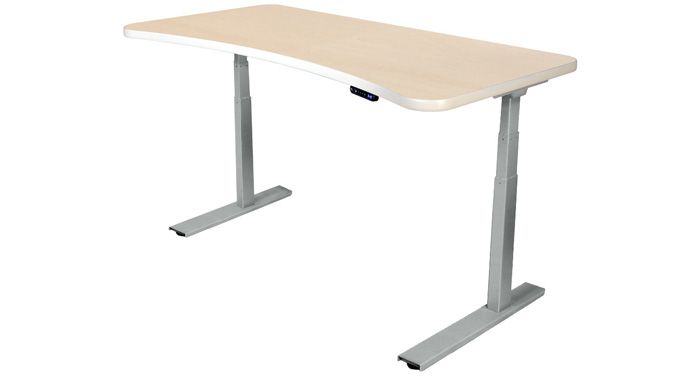 The PowerUp Series III comes in three different surface sizes (48" by 30", 60" by 30", and 72" by 30") with an adjustable height range of 25.5″ to 50.5″ at price points of $949, $999, and $1049 respectively. It comes in maple, mahogany, and black in all three surface sizes. Orange is available in only the 60" by 30" size. (The largest size, with the maple surface, is pictured above.)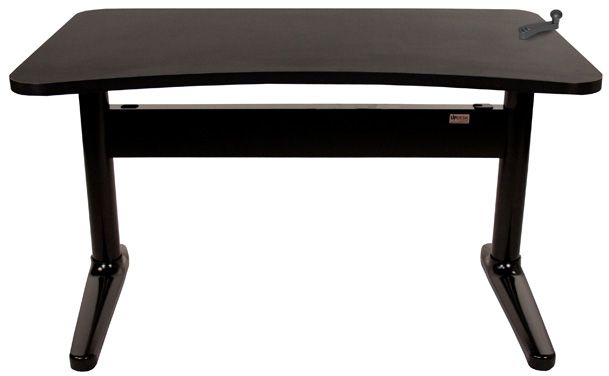 The CrankUp desk is available in the 48" by 30"and 60" by 30" sizes, with an adjustable height range of 26.5″ to 42.5″, in both maple and black, at $699 for the small and $799 for the medium. (The smallest version with the black top is pictured above.)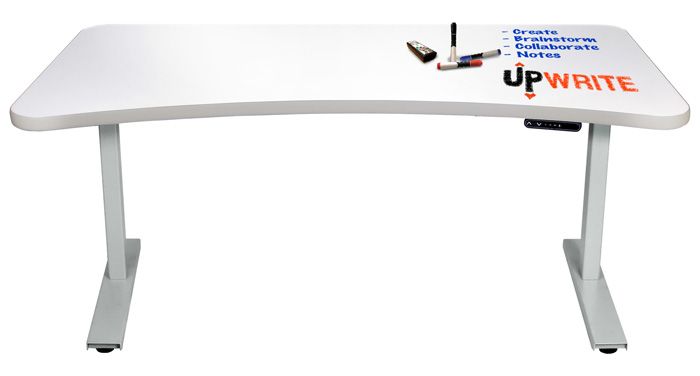 The UpWrite is available only in the 60" by 30" surface size with an adjustable height range of 25.5″ to 50.5," priced at $1149. It comes with a special wet/dry erase marker board top in either white or black. (The medium-sized white UpWrite is shown above.)
Okay, let's move on to what folks had to say:
Joel Cochran reviewed the PowerUp in the largest size with a maple top. Pros: Good price. Simple, sturdy, and attractive design. Easy to assemble. (It took Joel about an hour.) Great customer service. Cons: None.
Brandon Russell reviewed the white WriteUp in the 60" by 30" size. Pros: Easily adjustable. (Brandon uses two different computer displays, so it's imperative to be able to change the table height easily.) Moves smoothly. Sturdy. Solid. Durable. Fairly easy to put together. (Again, it took him about an hour.) Five year limited warranty. Cons: "Isn't so bad to look at, despite featuring a solid whiteboard as the surface."
John Biggs reviewed thePowerUp, saying "it's one of the best standing desks I've tried." Pros: Took him 20 minutes to put together. Clean no-nonsense design. Ability to pre-set three heights. Nearly silent. Moves from sitting to standing height in less than a minute. Cons: None.
Shannon Morse reviewed the 60" by 30" UpWrite and, overall, recommends buying it. Pros: The writeable desktop (she uses it for list-making and her calendar). The contoured front. Pre-set heights (good for women who sometimes wear high heels, sometimes wear flats.) Good warranty. Health benefits for posture. Holds 300 lbs. Cons: You have to assemble it. Expensive.
John P. of Geek Beat TV reviewed the PowerUp, giving it a huge thumbs-up. Pros: Easy to assemble. Good-looking, heavy, solid. Easily lifts 300lbs. Fair price. Cons: None.
Lex Friedman reviewed an earlier version of the 60" by 30" mahogany PowerUp, one that went only to 42.5 inches in height. Pros: Painless assembly. Quiet motor, smooth movement. Cons: Pre-sets still require you to manually press the up/down button. Not quite tall enough: (Friedman is 6'2" and so it was slightly too short for him to use with his treadmill.) Mahogany surface a magnet for fingerprints and dust (but can be easily cleaned).
Phlearn reviewed the PowerUp. Pros: Simple, timeless style. Large surface accommodates many 27" monitors. Easily raised and lowered. Same footprint as a regular desk. No drawers to get in the way. Cons: None.
Kevin Feasel reviewed the 72" by 30" maple PowerUp, which he highly recommends. Pros: Can hold two of his computers with all six monitors. Likes his two pre-set heights, which take only 10-15 seconds to change. Cons: Lack of storage (no drawers). Price.
Gregory Han reviewed the UpWrite and, overall, recommends it. Pros: Dry-erase top. Functional, curved shape. Electronic controls. Easily accommodates a treadmill. Easy assembly (only took him 30 minutes.) Cons: Design values "function over form." Not unsightly, just very plain. Assembly took up a lot of space and, depending on your strength level, you may need help lifting the desk to the upright position. Expensive.
Brian Bennett reviewed the small PowerUp. Pros: Reasonably priced, compared to other motorized desks on the market. The pre-set memory function. The cable management channel underneath the surface of the desk. Cons: None.
Note: While we found plenty of UpDesk reviews when it comes to the motorized version, the PowerUp, and a few reviews of their UpWrite (which is essentially just the PowerUp with a special writeable top), we were unable to find any reviews of the manual CrankUp option, which we actually find a little surprising. It can't be that much trouble to manually crank up your desk to standing height, now can it? Maybe it's just that the consumer base for adjustable height desks tends to be techy, exactly the sort of people who are drawn to electronic features and who are affluent enough to pay a few hundred more bucks for them. Overall, the consensus of most people who have written an UpDesk review, whether it was of the PowerUp or the UpWrite, is that the product offers great value for the money, although whether or not the Upwrite's writeable top is worth the extra $150 to you really depends on how much you personally would use that feature. There are slightly more attractive adjustable height desks on the market, but they are more expensive.
In summary: if you're looking for a motorized adjustable height desk at a reasonable price, the UpDesk PowerUp is a great bet.
(Visited 3,396 time, 4 visit today)