The Perfect First Standing Desk: A Review of the Executive Stand Steady Stand Up Desk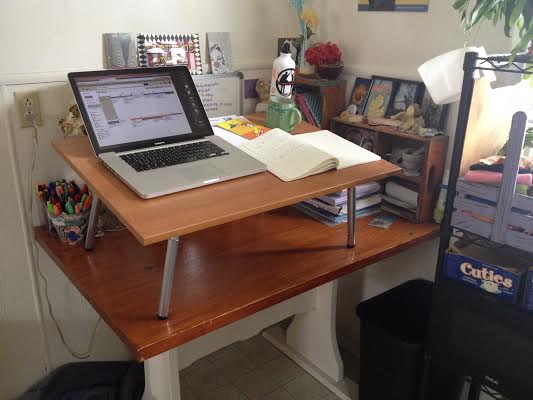 The Stand Steady series of desks can easily and quickly convert a sitting desk into a standing desk. When I was invited to review this product I immediately wished I'd known about the Stand Steady desk three years ago when I was looking for an affordable standing desk for my home office.
The Executive Stand Steady desk setup is ridiculously easy, taking just about five minutes, as the company promises. The package contents consist of a wooden desktop, two lightweight metal legs, five screws, four tube reducers, and four rubber leg pegs. The parts arrived a bit scattered in the box because the bag of parts burst open during transit. The list of components on the instructions also promised a penny as a gesture for just how easy setup is, but it was missing from mine.
The desk comes with a sheet of instructions with troubleshooting tips and handy info for transitioning from a sitting to standing desk. To be honest, the instructions are a bit wordy, especially considering how simple it is to put the desk together. I got a bit lost and overwhelmed in that document, but it was all but forgotten once I starting using the desk.
I decided to try out the Stand Steady on my kitchen table, which actually serves as my partner's desk in our house. I already have a standing desk in my home office, so to really try out the desk I needed a surface at sitting height. The Stand Steady comes with adjustable height legs, which is valuable in accounting for varied sitting desk heights and body proportions of the user.
What I immediately loved about the Stand Steady is the option of angling the desk surface, which is great for laptop users. I will often catch myself bending my head at the neck to accommodate my laptop screen, but with the Stand Steady's angled desktop I was standing up straighter from my mid-back to my shoulders.
The Executive Stand Steady model offers a good amount of workspace. I was able to fit my laptop, a notebook, coffee, and a water bottle on the desktop. The design of the desk also offers storage space underneath the desk surface. At first I was a bit put off at the weight of the Stand Steady; it's pretty heavy. But after using it the heft of the desk offers a necessary stability, especially for every day use.
As a grad student, my office space changes year to year, and in an institutional setting I'm not in the position to demand a standing desk. But the Stand Steady will allow me to adapt any sitting desk into a standing desk. And if you are in the position to request a desk from your company, organization, or institution, the Stand Steady is an ideal choice because it's drastically less expensive than a standing desk.
Overall, the Executive Stand Steady is perfect for first-time standing desk users who are looking to affordably and easily convert their current sitting desk into a standing workspace.
Casey Miles is a PhD student at Michigan State studying queer rhetorics through documentary filmmaking and digital rhetoric. You can find out more about her work at www.soulsmiles.com, or follow her on Twitter @soulsmiles.
(Visited 2,718 time, 2 visit today)