Give standing a try today with one of these temporary DIY stand up desks
If you've never tried to work standing up at your desk before, you're probably reluctant to take the plunge and invest in an expensive commercially made standing desk. You may even be reluctant to devote the time to building a quality DIY version until you are sure you really want one. The following standing desks crafted from found objects may not be particularly attractive, but using one of them for a few hours would certainly give you a sense of whether or not you could work at a more permanent one for the long-term.
Soda Can Standing Desk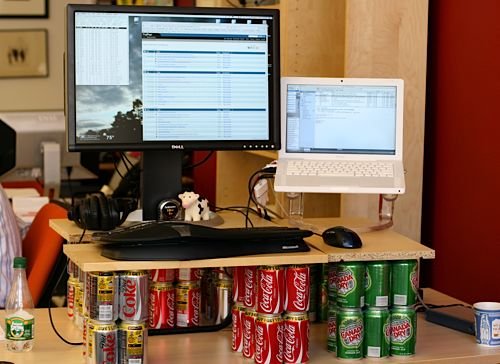 Way back in 2007, Marco Arment, the creator of Instapaper and co-founder of Tumblr, shared this photo of a standing desk made from cans of soda and a couple of boards. He made the tongue-in-cheek comment that he'd finally "found a use for Diet Coke." (We wouldn't be surprised if Arment still uses his soda can desk. His minimalist approach to life even though he recently became very wealthy was recently the subject of a Business Insider article.)
Chair Standing Desk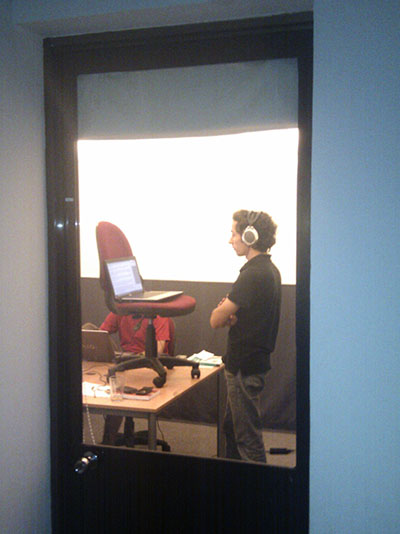 And Greg Schlomoff, of Better Inbox, made a bit of a sensation when he wrote a tongue-in-cheek post entitled "How to hack yourself a standing desk in 3 easy steps – an illustrated guide," in which he advised placing your chair on top of your desk and then putting your Macbook Pro on top of it. He may have been joking but this solution would work at least long enough to give you a sense of whether you'd be up for standing while you type.
Baker's Shelf Standing Desk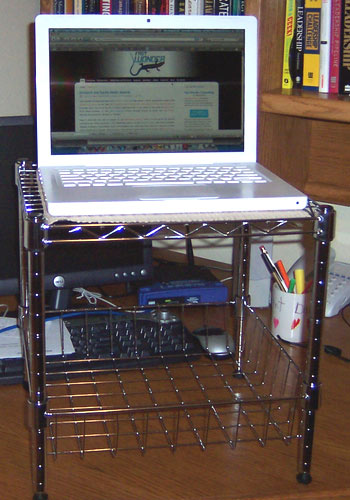 Puppet Labs community manager and blogger Dawn Foster's desk-top standing desk required a little more effort on her part – but only a little. First, she played around with various objects, including a short kitchen shelf, a monopoly game, and a couple of textbooks, interspersed with some no-slip silicone kitchen shelf liner, to find the right height for her laptop. Once she was comfortable, she measured that height and then wandered around the shelving area of a hardware store until she found a metal baker's shelf that was exactly right for her. She used some more of the silicone shelf liner between her laptop and the shelf and she also glued tiny bits of it to the feet of the shelf to make it a little sturdier.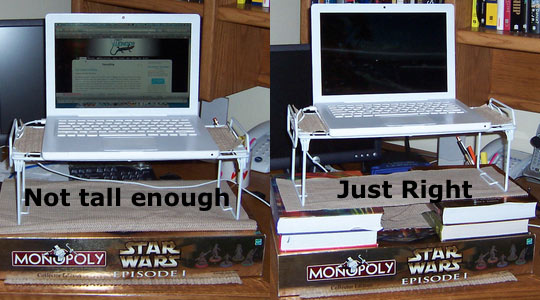 If you're curious about using a standing desk, why not do what these folks did and rig up something quick and easy first, to see if it might be the right choice for you? And if you're lucky, your quick and easy stand-up desk will work so well you won't have to fork over any money (or DIY time) for a fancier version.
(Visited 2,795 time, 4 visit today)