How to Turn Your Desk Into a Standing Desk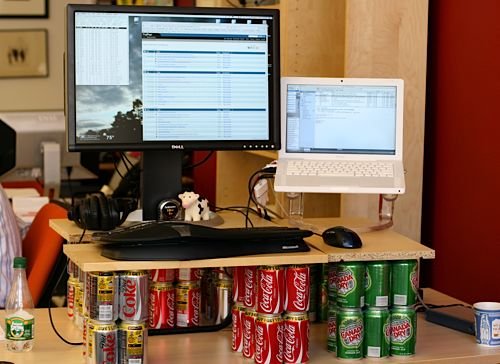 Marco Arment's temporary standing desk.
So you'd like to try working at a standing desk but you're not ready to fully commit. And that means you're certainly not ready to fork over $500 or up (way up) for a designer standing desk. What you need to know is how to turn your desk into a standing desk. Your existing desk–the desk you have now. Once you're sure you can work this way–and it does require a certain level of commitment–then you can either make your temporary standing desk more permanent or you can fork over for a purpose-made standing desk, whether that turns out to be an adjustable one or not. Here are some options.
Most people who want to try working at a standing desk usually just look for something in their vicinity to put on top of their regular desk in order to raise their computer and keyboard to the appropriate height. That something is most often a cardboard box or a stack of books. (Last year we featured three people who used soda cans, a chair, and a baker's wire rack respectively to craft temporary standing desk solutions.) This is a great first step, as long as you take care to get the height right.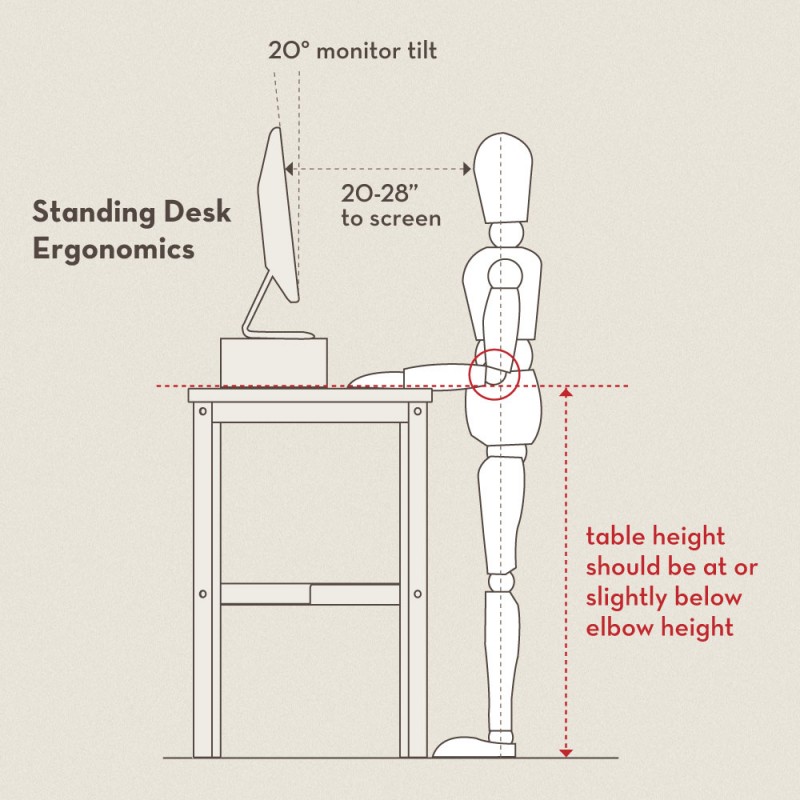 As you can see from Tinkering Monkey's diagram, your keyboard should be resting on a surface that is at (or just below) elbow height. Your screen, however, should be somewhat higher. (On a related note, laptops are ergonomically bad for you and if you work at one for many hours a day, you really should raise it up, even if you sit all day, and use an additional keyboard, either wireless or attached to your laptop via a cord, so that you can spend that time in a safe position.)
So go ahead, look around you and find something, anything, with which to construct a temporary standing desk, but bear in mind that you won't get a real sense of how it feels to work at a proper standing desk unless you get the ergonomics right. You're probably looking for two objects, one to rest your keyboard on and another one for the monitor.
We've seen people use plastic storage boxes, packs of printer paper, shoe boxes, plastic buckets, and so on. You name it, somebody's probably tried it. If it works for you, go for it. (And remember, instead of placing something on the surface of their desk, some people like to raise up the desk itself, by propping its legs on something, like sturdy boxes. You can work from the bottom up, too, if you prefer.)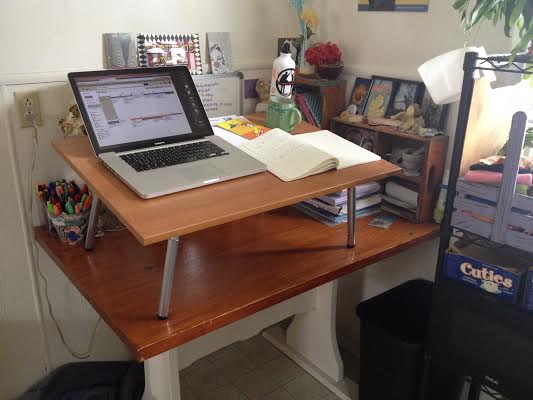 Casey's Stand Steady.
After getting a sense of whether standing all or part of your work day will work for you, the next step for a lot of people is to purchase a relatively inexpensive, smaller purpose-made desk that sits on top of your existing desk, rather than transitioning immediately to an expensive ready-made standing desk or forking out even more money for an adjustable one. These desktop desks, if you will, range from very basic versions like the Upstanding Desk recently crowdfunded on Kickstarter to the Original Stand Steady Desk to adjustable versions that can be raised and lowered, like the Varidesk, the Kangaroo Pro, and the Ergotron WorkFit Dual Sit-Stand Workstation.
One of our reviewers, Casey, reviewed the Executive Stand Steady and gave it a big thumbs up. One of these other versions would work, too. There you have it. If you've been wondering how to turn your desk into a standing desk, now you know. That's the easy part. The trick is to successfully make the transition to using it on a regular basis. We've got some advice to help you with that, too.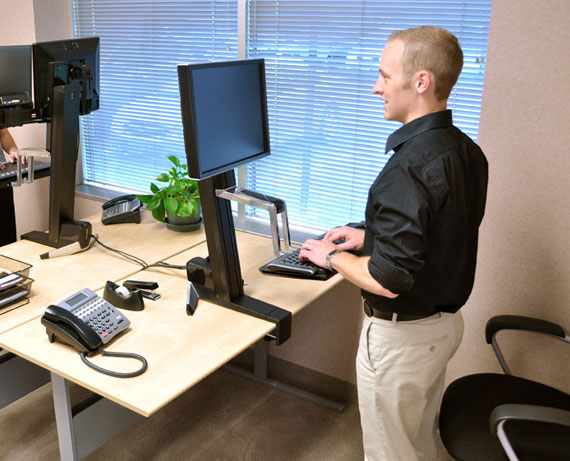 The higher-end Ergotron Workfit.
(Visited 7,498 time, 1 visit today)